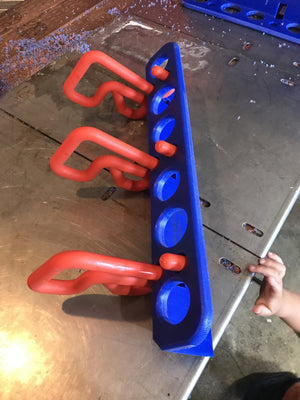 The HighLine Combo
Our newest product, The HighLine Combo includes our Bucket Knuckle HD paired with three of our new Hook N Loop hooks. 
-Bucket Knuckle HD derives from the same principle idea as our original. It is designed to keep you organized and prepared for any task in the bucket or basket. The HD (heavy duty) is designed with highlanders in mind. It has a larger diameter rigging placement holes and 2, 2" diameter holes perfect for your 7/8 inch hardware flip socket. By adding a center support and using larger material we were also able to increase product rating to 80#. Hangs on three standard size bucket hooks.
19 3/4 inch Width
3 1/2 inch Height
3 inch Depth 
-Consists of standard 3 inch bucket hook shape with one change.  We connected the hook on the outside of the bucket back to the hook body.  This gets rid of the chance of objects falling from workers up in the bucket.  Grips and hoists easily attach with carabiners.  And by creating a loop on the outside, there is no longer a chance of snagging communication, or electrical conductors in the outer hook. Our rigid design and specific plastic compound is designed to resist stretching and hook deformities.  Hooks are rated for 65 LBS. and proudly made in the USA! Patent pending.